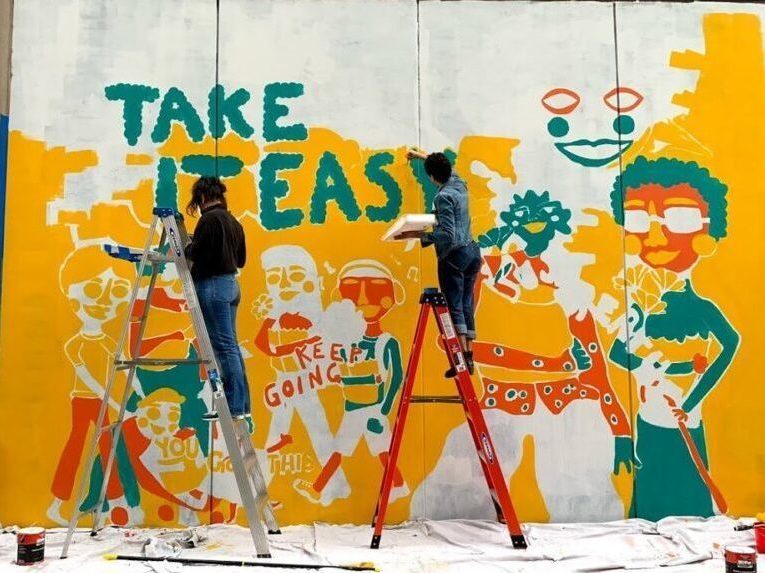 HueArts NYC Brown Paper
Executive summary
Arts entities that center the creativity, experiences, and perspectives of Black, Indigenous, Latinx, Asian, Pacific Islander, Middle Eastern, and all other People of Color are a critical part of the thriving culture of New York City. These entities, which are often founded as grassroots efforts and labors of love, offer opportunities to express creativity; provide a sense of belonging, history, and pride; and showcase the rich stories and creative practices that make up the tapestry of many People of Color (POC) communities. They support important work by artists and creative professionals, many of whom go on to make major contributions to American arts and culture.
HueArts NYC was initiated by three organizations directed by, and dedicated to the work of, People of Color: Museum Hue, The Laundromat Project, and Hester Street. The first initiative of its kind in New York City, it maps a broad view of Black, Indigenous, Latinx, Asian, Pacific Islander, Middle Eastern, and all People of Color arts entities dedicated to sustaining the work, preserving the histories, and guaranteeing the futures of these artists.
It is a research project that seeks to create a dynamic, data-driven online resource that spotlights POC-founded and -focused arts entities and aggregates information about these entities to promote greater visibility, self-determination, and support for communities of color that have been devastated not only during the pandemic, but for generations through systemic racism and chronic disinvestment. Organizations included in this project are nonprofit or for-profit NYC arts entities founded and led by Black, Latinx, Indigenous, Asian, Pacific Islander, Middle Eastern, or other People of Color, whose missions are to provide public-facing arts programming and events.
One key outcome of the initiative is the creation of an interactive online map and directory that highlights critical information about POC arts entities. Comprising more than 400 organizations so far, the platform is intended to serve as a user-friendly, searchable and updateable resource that captures information about the work, the people, the communities, the assets, and the opportunities fueling these arts activities throughout New York City.
This brown paper serves as a companion to the map. It is based on an extensive quantitative and qualitative survey as well as findings from interviews and community conversations with dozens of leaders of POC arts entities. The paper illustrates these entities' unique contributions, assets, and challenges; lays the groundwork for future research studies that further outline their complexities; and provides initial recommendations for sustaining their crucially important work.
Key Findings
Arts entities that participated in the survey and mapping process shared the challenges they face in raising funds to grow their organizations, hire more staff, cover health insurance costs, maintain an effective organizational home, and support the professional careers of artists and creatives. They also provided data and told stories describing what most of us already knew or suspected—that POC-led organizations accomplish a great deal, and often with relatively small budgets, limited and precarious access to space, and minimal staff. Six key findings emerged from this work.
POC arts entities are deeply embedded in their communities and often relied upon to provide more than just arts programming.

POC arts entities are often connected to a sense of place and neighborhood but rarely have a truly stable space of their own.

POC arts entities are resourceful and resilient in the face of a long history of structural racism, chronic underinvestment, and limited financial support.

The dearth of data and metrics on POC arts entities in New York City is significant and remarkable, creating barriers to truly comprehensive field knowledge, visibility, and impact.

Increased staff capacity and the ability to support artists are urgent and fundamental priorities for POC arts entities.

POC arts entities face extra layers of challenges in securing adequate funding in comparison to predominantly white-led arts entities.
Through the mapping project, survey, interviews, community conversations, and a public forum, a picture emerged of hundreds of POC-led organizations in all corners of New York City that are incredibly diverse, active, vibrant, meaningful, and multifaceted in their missions and programs. These entities are creating art and culture, sustaining their neighborhoods and communities, educating people, and presenting a rich and dynamic spectrum of artworks despite being chronically under-resourced. Later in this paper, these findings are elaborated upon and supported with stories and experiences from POC arts leaders and entities.
Recommendations
This brown paper celebrates the resilience and resourcefulness of Black, Indigenous, Latinx, Asian, Pacific Islander, Middle Eastern, and all People of Color arts entities in the face of limited resources. But it also demands systemic changes that start with those who set public policy and philanthropic priorities in NYC, including government entities and private supporters who have historically, consistently, and substantially supported predominantly white-founded and -led arts entities.
New York City funding entities have invested billions of dollars over the generations in arts and cultural institutions, but only a small percentage trickles down to POC-led entities. Based on findings captured in this paper, HueArts NYC partners recommend the following concrete action steps for government and private philanthropic actors to effect meaningful change:
Create a designated $100M fund for POC arts and cultural entities.

Establish a substantive baseline budget line for POC arts in the city's annual budget.

Invest in place as a long-term strategy for POC art stability and thrivability.

Foster career- and community-building among arts professionals at POC arts entities.

Consistently collect data that furthers knowledge and promotes equity in the arts.

Invest in higher and sustained visibility for POC arts entities in New York City.
This paper below provides data, explains the rationale for each recommendation, and outlines action steps for how each goal can be achieved. The research and analysis conducted for this mapping project and brown paper represent only the first step. Too few of the POC entities studied here have adequate or equitable access to the most basic means of support that would allow them to follow their missions and produce their work—work that is not only artistically important but plays a crucial role in connecting and sustaining communities of color in New York City.
Shared throughout this paper are Our Stories—images and stories from some of the arts entities whose contributions have enhanced the rich cultural tapestry of our city. It is hoped that making the people and their stories and histories more visible and visceral will lead to urgent and meaningful change for POC arts and culture entities.
Top Photo: MoCADA Take It Easy" mural at Atlantic Terminal. Mural created by MoCADA staff Macy Rajacich, Audrey Lyall, and Nikita "Snikka" Freyermuth, commissioned by Atlantic Terminal in Fort Greene, Brooklyn. Image Credit: MoCADA Staff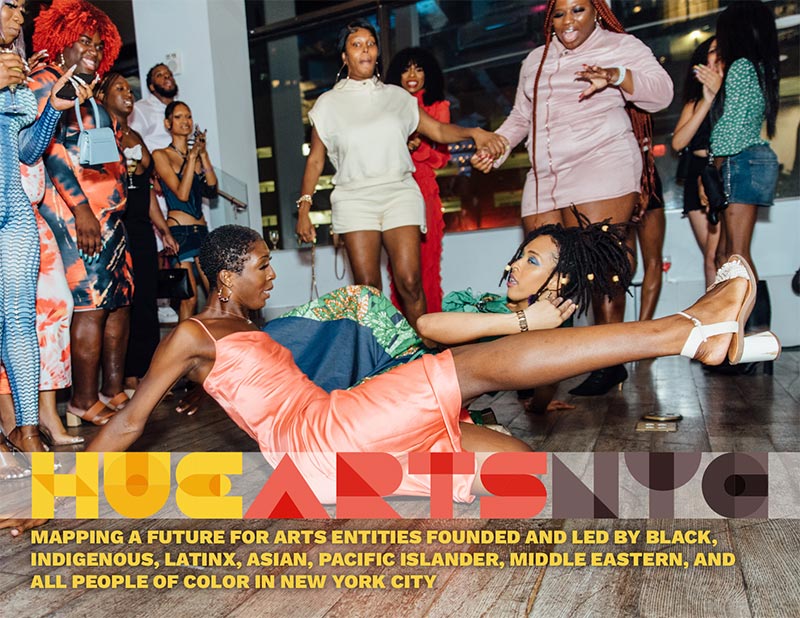 Read our stories, findings and recommendations